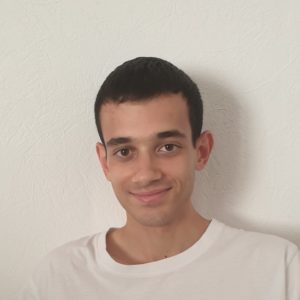 Rémi Carloni Gertosio
PHD STUDENT
---
Research Interests
PhD title: "Component separation from multi-wavelength radio-interferometric data, with application to the EoR signal".
The aim of my PhD is to develop methods for the estimation of the EoR signal with the forthcoming large-scale radio-telescopes. To achieve this, it is required to simultaneously solve a problem of blind source separation and deconvolution. The research particularly focuses on:
- the generalization of the method for data sampled on the sphere,
- the consideration of the non-coplanar effects,
- the introduction of parametric physical models.
My main interests are: signal processing, inverse problem, blind source separation, matrix factorization, sparsity, radio-interferometry, etc.
Teaching
I supervise electronics lab works at IUT de Cachan (64 hours per year).
Education
I graduated from ENS Paris-Saclay (ex ENS Cachan) in 2019 with a MSc in Electrical Engineering. I passed the Agrégation de Sciences Industrielles de l'Ingénieur option Ingénierie Electrique competitive examination in 2018.
Master's thesis: "Implementation of a reconstruction algorithm for acousto-optic tomography and experimental evaluation" (at SHFJ/CEA Saclay).
---
Thèmes de recherche
Titre de la thèse : "Séparation de composantes à partir de données multi-longueur d'onde en radio interférométrie, application à l'estimation du signal EoR".
Le but de ma thèse est de développer des algorithmes pour l'estimation du signal à l'époque de la réionisation (EoR) avec les radiotélescopes à grande ligne de base à venir. Pour ce faire, il faut résoudre conjointement un problème de séparation aveugle de source et de déconvolution. Un intérêt est particulièrement porté sur :
- la généralisation de l'algorithme pour les données échantillonnées sur la sphère ;
- la prise en compte des effets non-coplanaires ;
- la prise en compte de modèles physiques paramétriques.
Mes thèmes d'intérêt sont : traitement du signal, problèmes inverses, séparation aveugle de source, factorisation de matrice, parcimonie, radio-interférométrie, etc.
Enseignements
Encadrements de TP à l'IUT de Cachan dans l'UE "Traitement et électronique pour les capteurs" (département GEii2, 64 heures par an).
Formation
Diplômé de l'ENS Paris-Saclay (ex-ENS Cachan) en génie électrique en 2019. Lauréat du concours de l'agrégation de sciences industrielles de l'ingénieur option ingénierie électrique en 2018.
Stage de M2 : "Implémentation d'un algorithme de reconstruction en tomographie acousto-optique et évaluation expérimentale" (au SHFJ/CEA Saclay).
---