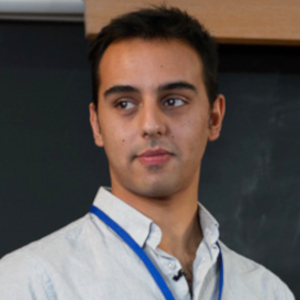 Benjamin Remy
PHD STUDENT
Research Interests
Joint Estimation of Cosmic Shear, PSF, and Galaxy Morphologies
The goal of my PhD thesis is to develop a hierarchical probabilistic model of the observed Euclid images combining physical models with Deep Learning components accounting for unknowns factors. In particular, I aim to build a forward model of Euclid field of views accounting for the PSF, cosmic shear, and galaxy morphology. Fitting this model to observed exposures is a theoretically optimal way to jointly estimate the cosmic shear field and perform the calibration.
Variational Inference and Hierarchical models
So far, solving such inference problem at scale was intractable. I am very interested in efficient optimization-based inference approaches, such as Variational Inference, replacing expensive Markov Chain Monte Carlo methods, to solve this problem.
Publications
Workshops proceedings
Talks
Astromerique speaker series, University of Montreal, 27th Sep 2022 (invited)

CosmoClub, ETH Zurich Cosmology group, remote, Feb 2022 (invited)

Recontres de Moriond Cosmology, La Thuile, 29th Jan 2022.
Machine learning in astronomical surveys conference. IAP, Paris, Oct 2021.
IN2P3/IRFU Machine Learning Workshop, March 17th, online. Slides
Euclid Workshop on Machine Learning and Deep learning. December, 14th 2020, online

Denoising Score Matching for Uncertainty Quantification in Inverse Problems: 

Application to gravitational lensing and Magnetic Resonance Imaging, with Zaccharie Ramzi. Machine Learning Club, Nov 18th 2020, online.
Set of slides at https://github.com/b-remy/talks.
Other links