This page contains information about the Euclid weak-lensing two-point statistics meeting at IAP, Paris, France. Please contact Martin (martin.kilbinger at cea.fr) or Karim (karim at iap.fr) for further information.
Date
February 4+5 (Thursday + Friday), 2016.
The meeting will start after lunch on the 4th, and finish in the late afternoon/evening of the 5th.
Location
IAP (Institut d'Astrophysique de Paris).
98bis, boulevard Arago
75014 Paris, France.
The meeting on both days will take place in Salle Entresol, the seminar room on the lower mezzanine between ground floor and basement.
Program
Requirements for LE3
Discussion and linking between methods
Validation & verification
Covariance
pdfs of observables
Coding issues
Hacking session
Agenda
See the google document of the meeting.
Registration & Participants
Please send an email to Martin (martin.kilbinger at cea.fr) if you wish to attend the meeting, and add your name to the participant list on the google document of the meeting.
Remote participation
We will set up remote access (e.g. skype, polycon), more details soon.
Local information
IAP is situated downtown Paris, near the stations Denfert-Rochereau (suburbian train RER B, Metro lines 4 and 6), and St. Jacques (Metro 6).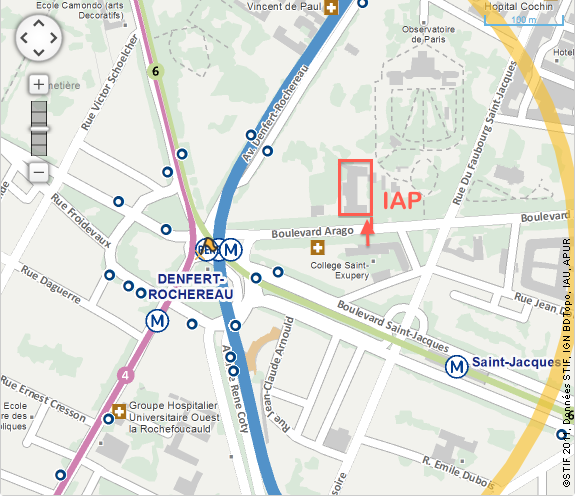 How to get to IAP
IAP can be reached with public transport within 35-50 minutes from both Paris airports (Charles de Gaulle [CDG] and Orly [ORY]). From CDG take the RER B to Denfert-Rochereau. From Orly, take the Orlybus to Denfert-Rochereau, or the Orlyval to Antony, and change to the RER B to Denfert-Rochereau. See also the IAP access page, and vianavigo.fr.
Hotels
See http://www.iap.fr/col2015/accomodation.html and http://www.lesia.obspm.fr/List-of-some-convenient-hotels.html
for nearby hotels.
Restaurants
There are many restaurants, bakeries, supermarkets, and other places to get food within 5 minutes walk from IAP, most notably in rue Daguerre and other streets around Denfert.